DILG conducts LGU validation for "Good Housekeeping" program
April 20, 2011
By MYLES JOSEPH E. COLASITO
TACLOBAN CITY – In an effort to elevate the level of fundamentals of local governance, the Department of the Interior and Local Government (DILG) conducted onsite validation in 11 towns and one (1) city in Eastern Visayason the results of the Seal of Good Housekeeping (SGH) survey.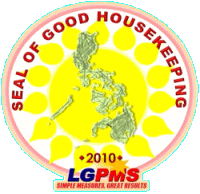 The One Million Peso seal
The validation was made from April 12 to 19, revealed DILG Regional Director Francisco C. Jose, who added that the recommendations will be forwarded to the DILG Central Office within the month.
However Dir. Jose emphasized that NONE of these local government units (LGUs) validated in the region are yet assured of being among 200 towns and cities in the country who will receive 1 million pesos in counterpart fund from DILG under its Performance Challenge Fund (PCF) program. This is because the regional level results will still be evaluated and compared with those from other regions.
Among the LGUs visited by the DILG Regional team are: Caibiran and Almeria in Biliran province; Silago and Maasin City in Southern Leyte; Babatngon, Inopacan and Merida in Leyte; Lope de Vega and Allen in Northern Samar; as well as Balangiga, Lawaan and San Julian in Eastern Samar.
The Seal of Good Housekeeping is a set of criteria aimed at recognizing LGUs with good performance in internal housekeeping particularly on the areas of Sound Fiscal Management, Transparency and Accountability, and Valuing Performance Management. Information on the last part is taken from the agency's own Local Governance Performance Management System. Among the key components in the SGH criteria are compliance to the DILG's Full Disclosure Policy, and acceptable levels of findings from the Commission on Audit.
For 2011, 28 component cities and 706 municipalities nationwide belonging to the 4th to 6th classes are to be covered by the Seal of Good Housekeeping criteria, which is an eligibility requirement to access the PCF. The PCF on the other hand is an incentive fund to LGUs in the form of counterpart for projects to be financed from the 20% component of the LGU's Internal Revenue Allotment (IRA).
Dir. Jose said that eligible LGUs may use the PCF for projects meant to achieve the Millennium Development Goals (MDGs); boost economic development; or those to help communities adapt to climate change and prepare LGUs for disaster.
Since the project was started last October 2010, only the municipality of Kawayan, Biliran has received the "Seal of Good Housekeeping" in Region 8, and earned the 1 Million-peso PCF grant from DILG.
Comments